Honey Boo Boo CMB Got Your Back Girl!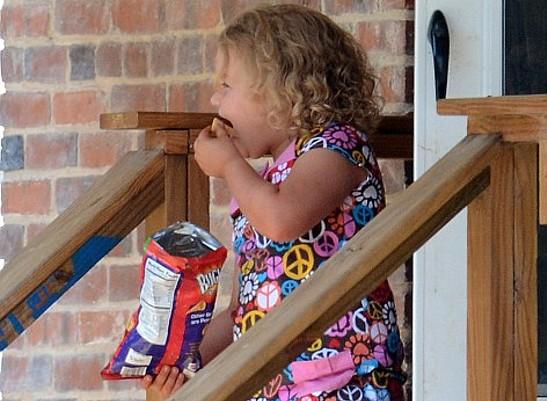 Okay so I read this article today giving my little homie Honey Boo Boo a hard time for being a chubby little kid.  Critics before you jump all over me I am tabling the obvious discussion about her show, upbringing, and over all sensationalism surrounding her.  
The article I read goes into criticize how much she is eating and how chubby she is.  And then it goes on to give feedback on Honey Boo Boo from a fellow reality star Abby Lee Miller who says that Alana needs to lose weight if she wants to be a winner.
This girl is 7 years old!!!! Why doesn't everyone just back off of her and her chip eating! If we want to encourage her to change her eating habits it should NOT be because we want her to win (because her bank account is clearly winning) but rather because she needs to be healthy.  
America is it okay with you that we write and say such hurtful things about a child? Is it okay that we begin at 7 years old to give her a body image issue?  Lets get our priorities straight shall we…health before looks! And obesity is a far deeper issue than fat people not being able to control their chip intake.  Instead of tearing our youth down why don't we come from a place of love rather than jealousy.
And by the way Abby Miller I suggest you take a long look in the mirror and whats going in that big mouth of yours.  I don't watch either one of these shows but I know a child doesn't deserve to be put down in such a terrible way.
To Alana, if by chance you read this…..you are a vibrant being and I hope for the very best for you.  
Color My Bubble